Moolchand and Parvati Kol, poor peasants from Ginj in Allahabad district, were given old notes throughout the rabi season by the contractor for whom they quarry stones. An old Rs. 500 note was valued at Rs. 400 by input dealers and shopkeepers from where Moolchand bought food and other things for the family.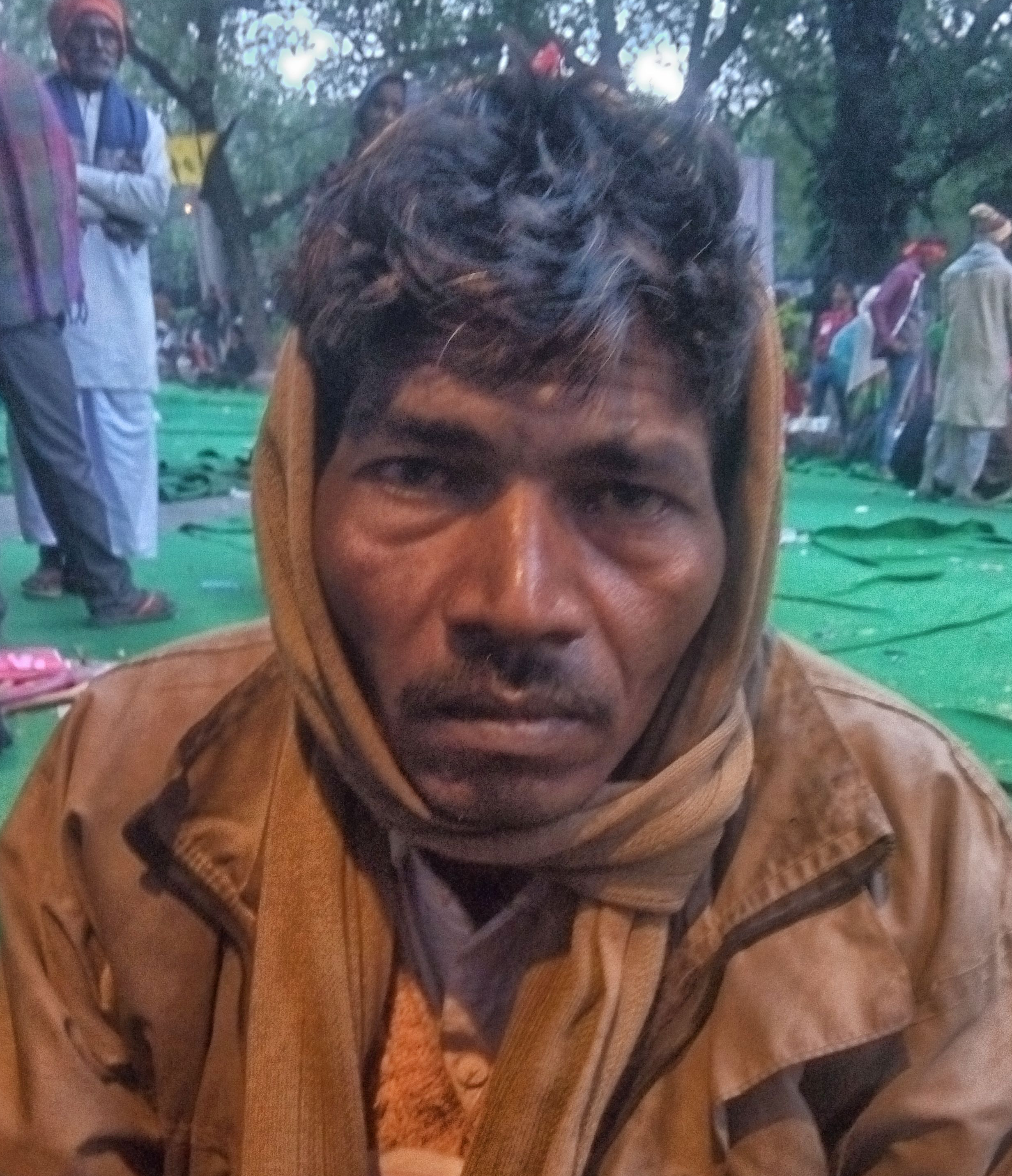 Moolchand (40) is a poor Kol peasant from Ginj, a village some 30 km south-west of Allahabad, UP. The Kols are a tribe living on the UP-MP border. Although recognised as ST in MP, they have bizarrely been classified as SC in UP. The village lies in hilly terrain. It had a population of 2246 as per 2011 Census. Government statistics for 2016 show that the village had an upper primary school, no health facility, no post office and no bank. There is no public transport facility to the village. There are no sellers of agricultural inputs in the village, no cooperative society, no agricultural extension center, and no government procurement centre.
Moolchand revealed the stark economics of loss and indebtedness, and the family's desperate struggle to survive through harsh labour. He and his wife Parvati live with their three daughters, one son and one daughter-in-law. The eldest son Bhupendra is away in Mumbai for last three years working in a restaurant.
His father had 0.85 acres of land. This was divided between Moolchand and his two brothers, and Moolchand came to inherit only about 0.29 acres of land. Moolchand's land gets water from a canal, which allows him to grow paddy in the kharif season and wheat in the rabi season.
Their tiny landholding yielded only 5 quintals of paddy and 1 quintal of wheat last year. This is not even enough to fulfil their yearly requirement of about 7 quintals of grain for sustenance.
So, Moolchand is left with no surplus to sell and cannot even save grain for using as seed for the next sowing. Last year, he had to buy both paddy and wheat seeds. They also had to buy small quantities of DAP and urea in both the seasons. Details given by Moolchand showed that the family spent Rs. 1585 for buying inputs for paddy and Rs. 1210 for purchasing inputs for the wheat crop. The family barely recovered the expenditure they had incurred in purchasing inputs.
All the cultivation work was done by the family itself with no hired help. If one includes the value of their own labour and resources used in the work, the family incurred a loss of Rs. 5025 in paddy crop and Rs. 2560 in wheat crop.
Since agriculture gives them no surplus, how do they buy agricultural inputs, food and other necessities for their family? Money for all this and other incidental expenses comes from non-agricultural wage labour done by Moolchand, Parvati and Bhupendra (in Mumbai).
Bhupendra gets food and a place to stay in the restaurant he works in, and is therefore able to save and send about Rs. 5000 from his monthly earnings to the family in Ginj. Moolchand and his wife quarry stones from nearby hills to earn money. The contractor who employs them gives them Rs. 3000 for quarrying 500 cubic feet of stones. This normally requires 15 days of labour.
The family, however, is often short of money and they have to regularly take advances from the stone contractor. Last year, because of demonetisation, they were given old notes by the contractor throughout the rabi season. An old Rs. 500 note was valued at Rs. 400 by input dealers and shopkeepers from where Moolchand bought food and other things for the family. In other words, Moolchand had to spend 20 per cent more for all agricultural inputs and for consumption goods during the rabi season last year because of demonetisation.
In May 2017, Moolchand and Parvati had to incur expenses for Bhupendra's wedding. In addition to money saved from Bhupendra's earnings in Mumbai, the family had to borrow from the stone contractor. Additionally, they got Rs. 22,000 by mortgaging their agricultural land. Informal mortgages in rural India are inevitably usufruct mortgages. Thus, in lieu of interest, Moolchand has to let the lender use the land until Moolchand is able to repay the loan.
This year, with the land mortgaged, they have nothing to cultivate. They have had no access to credit from any bank. At the time of the survey, the family had a debt of Rs. 28000.
"I hope that we will be able to repay this debt by quarrying stones and using remittances sent by Bhupendra," Moolchand said.
** Vikas Rawal is Professor at the Jawaharlal Nehru University
This was originally published on NewsClick.in.
Other posts in the series
2. Moolchand and Parvati Kol, adivasi peasants from Ginj in Allahabad district